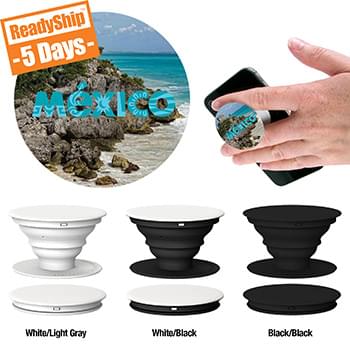 A PopSockets® Grip sticks flat to the back of your phone, tablet or case with its rinsable, repositionable gel. Once extended, a PopSockets Grip becomes a media stand for your device, a photo or texting grip, or lower it for a video chat. The possibilities are endless with a PopSockets Grip, and with full color imprinting, so are the imprint possibilities. The back of anyone's phone is prime real estate for any promotion, and the best part is that a PopSockets Grip can be used on almost any brand of phone or phone case. *For best results, use in conjunction with a phone case.
Size
1.53" x 1.53" x 0.9" (Expanded) 1.53" x 1.53" x 0.26" (Collapsed)
Tariff Disclaimer
Prices are subject to change due to tariff volatility. Please call to confirm pricing prior to placing your order.