Travelstar Keyring Badgepak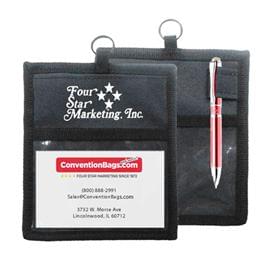 Attach your favorite Conventionbags.com lanyard to this heavyweight 600 Denier polyester badge holder with attached keyring. Extra back pocket. Also comes with a backside pen holder. Size: 6.5"W x 7.5"H. Imprint your company name or logo above window for a one of a kind look. Perfect for your next convention or tradeshow. Fits standard size badges. Optional inserts available.
Make-It-Custom
with over 30 different bag colors and features to choose from!
Tariff Disclaimer
Prices are subject to change due to tariff volatility. Please call to confirm pricing prior to placing your order.