Nitrile Gloves for Personal Safety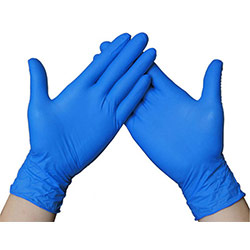 In stock NOW and ready to ship! Nitrile gloves have higher puncture resistance and more hypoallergenic compared to other gloves. These powder-free gloves conform to your hands for a more comfortable fit. Each box contains 100 single gloves (50 pairs).

Price shown is per single glove. Must be ordered in full-box increments of 100 pieces.

While our core business is branded promotional items, we are doing our part and have transitioned to use our international networks to source out critical medical supplies for health care providers, government agencies, and essential services during these unprecedented times. These in-demand items are imported from overseas, and lead time is approximately 12-15 days. We are making donations to local health care providers and are reaching out to our client network as well. If your organization or anyone you know is interested in donating these items, we can have them drop shipped anywhere in the US.
Production Time
In stock NOW and ready to ship!
Tariff Disclaimer
Please note due to world demand, this product is now a commodity and price changes weekly. Please call for current price. For higher quantities, please call to request quote.