Travelstar Multi-Function Convention Sport/Brief Bag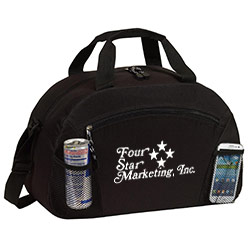 Heavyweight 600 Denier Polyester Canvas. Size: 16" x 10" x 8 ". Imprint Area: 7" W x 6" H. Adjustable shoulder strap, carry handles and transparent identification window. Double zipper main compartment, front pocket with zipper and front mesh pockets on each side for storage or water bottles.
Make-It-Custom
with over 30 different bag colors and features to choose from!
Material
Heavyweight 600d PolyCanvas
Production Time
1 week (standard), 8 weeks (custom colors)
Tariff Disclaimer
Prices are subject to change due to tariff volatility. Please call to confirm pricing prior to placing your order.