4 Oz. Hand Sanitizer w/ Aloe & Vitamin E - USA Made - Imprinted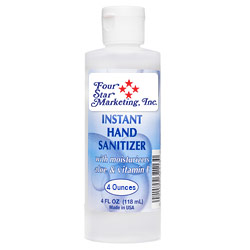 In stock NOW and ready to ship! 4 oz. gel hand sanitizer with moisturizers aloe and vitamin E. Made in the USA. 70% ethyl alcohol formula is effective at eliminating 99.9% of many common harmful germs and bacteria. Includes your full-color logo on a custom sticker, which is then applied to the bottle.
Production Time
1-2 weeks
Tariff Disclaimer
Due to world demand, this product is now a commodity and price changes weekly. Please call for current price. For higher quantities, please call to request quote. Please note label color may slightly differ depending on inventory availability.