16 Oz. Pump Hand Sanitizer w/ Aloe & Vitamin E - USA Made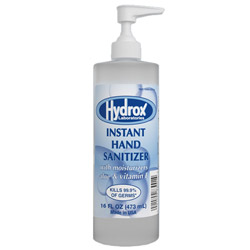 16 ounce gel sanitizer. Made in the USA. FDA and CDC approved. 70% ethyl alcohol formula is effective at eliminating 99.9% of many common harmful germs and bacteria. Contains moisturizers aloe and vitamin E to help prevent dryness and skin irritation for frequent users. In stock NOW and ready to ship! Must be ordered in case pack quantities of 12 pieces.
Production Time
In stock NOW and ready to ship!
Tariff Disclaimer
Due to world demand, this product is now a commodity and price changes weekly. Please call for current price. For higher quantities, please call to request quote. Please note label color may slightly differ depending on inventory availability.